Total Workforce Management
An SAP solution for full-time and contingent labor management
My Roles
User Experience Designer
Prototype Developer
Tools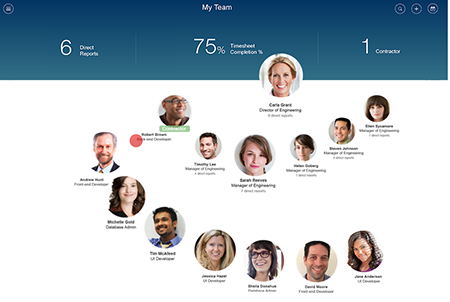 1. The problem
Getting talent on board in a company is never an easy process. It involves multiple stakeholders and steps from getting the budget approval to working with suppliers, from interviewing candidates to onboarding a new team member, and from managing a team to managing a company's workforce.
2. My role
I was part of a team of designers working on multiple pieces of this project. I, specifically, worked on the The layout, interactivity and scalability of the organization chart. I also headed up the development of this piece of the project using framer.js and it ended up in CEO Bill McDermott's keynote at Sapphire.
3. The Solution
The solution we came up with as a team was to break most of the conventions in the product because the org chart necessitated it. The rest of the sections in the people profile were straight forward, rigid blocky chunks and this had to be different; a little edgy and interactive. If you look at most org charts, they're a mess of blocks, pictures, lines, lumped in with a lot of scrolling and probably has more information than is necessary. What we came up with was delightful and fun to use.
4. Takeaways
The pain points for org charts were easy to focus on here and alleviate. It took a creative solution because we were focusing on tablets at the time. This was a fun project to work on and it helped me along in my career at SAP. I learned where and how to push the boundaries in the meeting room and on the screen. I also learned a lot about the process and designing for the enterprise. Unfortunately, I'm uncertain of the project's outcomes other than the fact that it was in the keynote. Here is a video from Sam Yen about it.